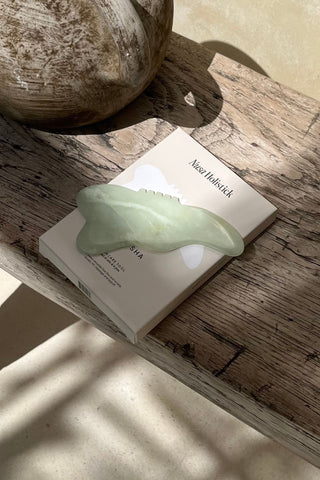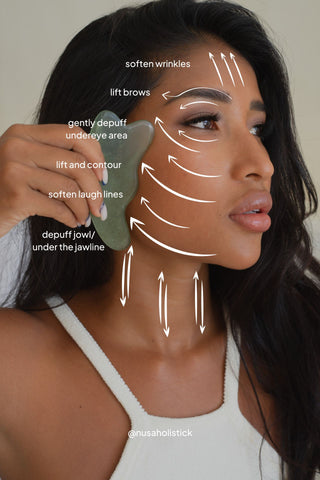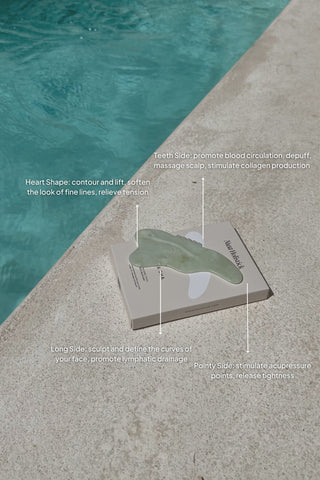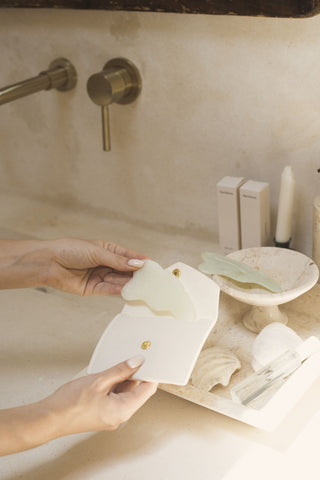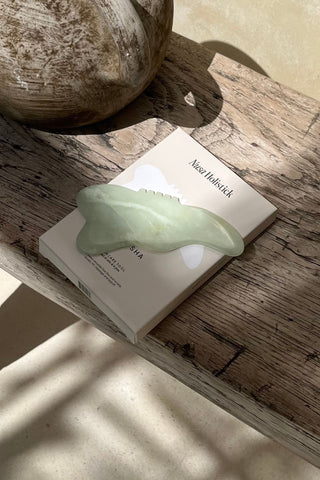 Stone colours may vary due to the natural variations in the Jade stone
Stone colours may vary due to the natural variations in the Jade stone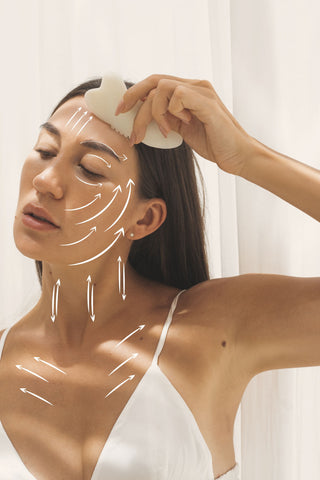 GUA SHA BENEFITS
Long side: sculpt and define the natural curves of your face, promote lymphatic drainage, de-puff and reduce excess fluid build-up
Heart-shaped side: contour and lift the face, massage and soften fine lines and wrinkles, relieve facial tension
Pointy side: apply acupressure to release tightness, relax facial muscles, stimulate pressure points
Teeth side: promote blood circulation for glowing skin, massage forehead and scalp area, increase blood flow for plump, youthful skin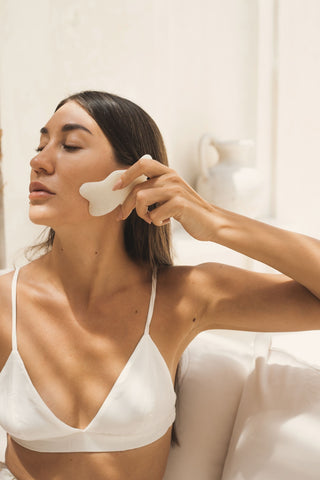 ELEVATE YOUR BEAUTY ROUTINE
We make your skin glow, jawline snatched, lymph fluid flowing and facial tension melt away with our best-selling Gua Sha. Just five minutes a day, a few times a week, we help introduce this practice into your routine in a simplified way.
Gua Sha
Gua Sha is amazing took for firming the skin.
Love my Gua Sha
I love the way this fits perfectly to the curves of my face. The pouch it comes in is lovely, keeping everything neat and clean. This is by far the best Gua Sha I've used. I also love the easy to follow routine tutorials on your IG.
My favorite Gua Sha Tool
High quality, beautiful color love the 4 different sides to target different parts of my face especially the comb side amazing for nasal lymphatic drainage. This one is everything I was looking for!
Gua sha tool
Love this product, my skin looks alive and it has provided relief from jaw pain from teeth clenching. Thank you 🙏🏻
There are good gua sha stones & then there's a great one…Holistick, you nailed the design! Truthfully, the jury is out on the oils tho…. 🙏